Home A/V & Media Systems

Residential system design & custom solutions for all of your Audio Video & Home Theater needs! Our approach is custom, one on one, and specific to your budget, goals & needs.

Home Automation Pro's

With the most versatile wireless systems, best technologies, and awesome technicians, we are your go to Licensed Home Automation & Security design, installation, and monitoring company.

Commercial Services

Commercial Services include Boardrooms, Conference Rooms, Training Facilities, Restaurants & Bars, Retail, Church & House of Worship and much more.
Home Theater Installation Round Rock | Audio Visual Company | Home Automation Systems Store
Thank you for visiting Capitol Audio Video! We are proud to be an expert home theater systems design and installation company in Round Rock. No matter what kind of a/v project you have in mind, our team is ready to get right to work for you. We are experienced in the audio video business and will work hard to make sure your vision is brought to life in whatever kind of project you put in our hands. To get started on a new a/v project right away, give us a call soon and speak to any of our friendly and helpful team members.
There are a variety of services which we can offer here at Capitol Audio Video. In fact, it is probably easier to understand everything that we offer when it is broken down into categories. Below are five different areas of the audio video business that we are capable of managing for you. If you have are thinking of a project that fits into any of the general categories below, we would love to hear from you. We serve Round Rock and surrounding areas, so don't wait any longer to get started on that project that you have been dreaming of completing!
At the heart of our business is the design and installation of home theater systems for residents in the Round Rock area. These projects are exciting for us to work on because of how amazing the transformation can be from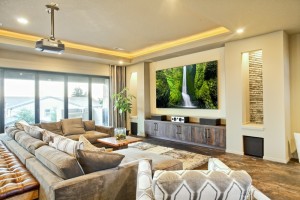 start to finish. What was once a plain, boring living room or family room space can suddenly become the center of attention for the home and the whole family's favorite place to gather.
The possibilities for your home theater solution are nearly limitless when you work with our team. Some of the great features we can use include home theater seating, projectors, screens, surround sound speakers, 3D TV's, and much more. Basically, if you can dream it up, we will work hard to bring it to life. No matter if you want to have a bunch of friends over for a Cowboys' game or just enjoy quiet movie nights at home with the kids, your new home theater space will be the perfect place to make those memories.
Are you a business owner or manager in the Round Rock region? For businesses who need an update or overhaul of their a/v system to keep up with the competition around them, Capitol Audio Video is a great place to start. A/V solutions are just as important for businesses as they are for residential users, and our team understands how to put technology to work in order to bring your business into the 21st Century. Give your employees the tools they need to get the job done in today's fast-moving markets.
Some of the commercial audio visual elements that we can offer include projectors and screens for meeting and training rooms, intercom systems, access controls, digital signage installation, pro audio, and much more. Our team will be happy to work with you to create a plan that meets your needs and stays on budget at the same time. Get in touch today to get started bringing your a/v system up to speed.
Does your beautiful Round Rock, Texas home have a room or extra space that isn't being used for much currently? If so, you should consider the possibility of a custom media room installation to bring the space to life and add a great feature to your home. Media rooms are exciting because they bring the feeling of a commercial movie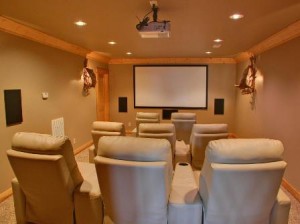 theater right inside your house – without the high ticket prices or expensive popcorn. A media room is great for watching sports and movies, playing video games, listening to music, and much more. Regardless of what your favorite kind of entertainment might be, there is a good chance it will be enhanced with the presence of a media room in the home. In-wall speakers, surround sound systems, home theater seats, 3D projectors, and more are just some of the features possible for your media room project.
One of the fastest-growing fields in the business of audio video installation is the area of home automation. Using new technologies, many of the systems around your home can now be automated and integrated into a single, easy to use system. Lighting control, access controls, motorized window coverings, HVAC control, and more can all be put together into a smart home system. Just about any homeowner can benefit from the use of home automation, and each system can be custom designed to fit specifically the needs of you and your family. Contact us today to speak with our team regarding the options for your smart home design.
Churches require an up-to-date audio visual system in order to deliver a quality worship experience to their membership. If you feel that your church a/v equipment has fallen out of date and is no longer capable of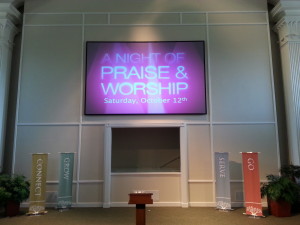 doing the job, get in touch with Capitol Audio Video and find out what we have to offer. A good church a/v system doesn't have to be complex, but should probably at least include an a/v mixer, some surround sound speakers, and even a projector and screen system. With just those basic elements designed and installed by our team, you will be able to quickly improve the service experience that you can offer your members.
Thank you for taking the time to visit our site and learn a little bit more about our services. If you would like to get started discussing an upcoming project that you have in mind, whether residential or commercial, feel free to get in touch right away. We look forward to hearing from you and helping you accomplish whatever audio video goals you may have.
Round Rock Home Theater Design and Installation | Smart Homes Round Rock TX
Get in touch for High end home theater systems. Round Rock home theater solutions, design, seating, furniture and more. Home theater installation Round Rock TX home automation
Some of our Round Rock Audio Video brands: