For the best in commercial audio visual design and installation in and around the Round Rock, Texas area, contact us at Capitol Audio Video today. With years of experience in this business working with companies of all shapes and sizes, we are a good bet to be able to handle even the most challenging a/v projects. Whether you are hoping to upgrade an old audio visual system, or come up with an entire new a/v solution for your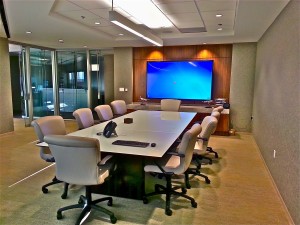 business, our team is here to help. We will put to use the latest technologies and innovations to make sure your company has what it needs to remain competitive year after year.
If your business occupies an office space that needs to be upgraded in terms of the technology that is available to your employees, we are ready to help. It is important to arm your staff with all of the tools they need to compete, such as corporate audio visual communications systems, video conferencing gear, projectors, screens, and more. When you ask your employees to get the job done with less than the proper equipment, you are only setting them up for failure. Reach out to our team today and find out what kind of equipment and design plans we can put to work in your office to help your staff reach whole new levels of productivity and achievement.
For the business that is more focused on a retail location, like a restaurant or club, we are able to provide audio visual solutions that enhance the customer experience from the moment they walk in the door. Pro audio, TV installation, video solutions, and audio video wiring are just a few of the services that we can provide to make sure your retail space is welcoming and encourages customers to return time and again.
Attracting new customers is a goal of basically every business, so the digital signage installation services that we offer are valuable in terms of improving your visibility and letting the community know you are there. Digital signage is great for announcing special events, sales, hours, and more.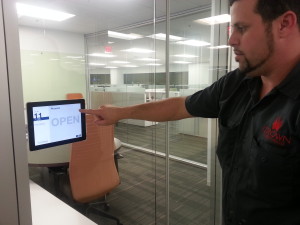 Your staff will be trained on how to use the digital signage so that it can be quickly and easily updated on an ongoing basis.
As an audio visual designer, Capitol Audio Video is happy to help you create exactly the a/v system that you need to improve your business. Even if you don't know exactly what kind of system you are looking for, or what kind of equipment would serve you best, reach out to our team and we will work with you to come up with a plan that satisfies your needs. From intercom systems for large office buildings to pro audio solutions for restaurants and clubs – and everything in between – our experience and knowledge is ready to go to work for you. Once you update your business with the proper technology from an a/v perspective, you will be free to cross that concern off your list and get back to the process of making your business the best it can be.
Home Theater Design and Install in Round Rock, Texas
Round Rock Media Rooms Design Business
Round Rock Home Audio Video Installation
Home Automation and Smart Homes in Round Rock, TX
Church Audio Visual Systems Install Round Rock
Round Rock, TX Commercial Audio Visual Solutions | Communications Systems
Contact Capitol Audio Video today to speak with our team regarding any business audio visual project. We have great experience in this field and would love to put our knowledge to use for you soon!