It's no secret that technology has made many things possible that simply weren't an option as recently as a few years ago. One of the fastest-growing fields is that of home automation, which allows home owners to control various systems around their houses with just the push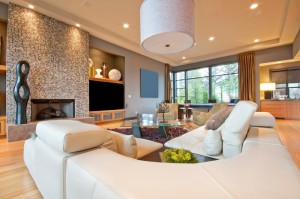 of a button. Whether you are sitting in the living room and just don't want to get up, or are halfway around the world and wish to check in on your house, living in a smart home certainly has its advantages. Contact Capitol Audio Video right away to discuss your needs for a home automation system and our team will be happy to get to work designing and installing a solution that works for you.
The great thing about home automation is that it is a feature you can take advantage of regardless of your lifestyle. Homeowners all around Round Rock, Texas are quickly learning just how valuable this addition to your home a/v system can be. Elements such as lighting control, access controls, surveillance systems, thermostat control, motorized window shades, and more can all be brought together into a single control panel for quick reference and adjustment. This control panel could potentially be controlled from a central location in your home, as well as a tablet, smartphone, or computer.
If you are someone who frequently travels away from your Round Rock home, whether for vacation or for business, home automation can come in handy as a great way to gain some peace of mind. If you are thousands of miles away and can't remember if you turned the lights off, simply log on to the system and check for yourself. In just a minute, you can find out for yourself if the house is in good shape, and get back to enjoying your time away. That is just one simple example of how a smart home and truly impact your quality of life.
Likewise, a smart home system can help you if you are at home most of the time and want to have the best possible experience from your luxury Round Rock property. For those times when you are entertaining a large number of guests, use your home automation control panel to manage the thermostat, lights, shades, and more to make sure your guests remain comfortable all throughout the evening.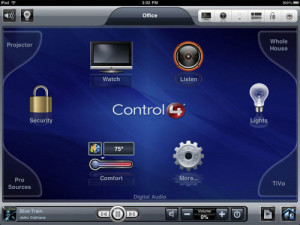 Without even having to walk away from the conversation, you can make those little adjustments and throw a memorable party.
Thank you for taking some time to visit our site and find out more about the home automation services available from Capitol Audio Video here in Round Rock, Texas. Our team would love to work together with you to find a solution that satisfies your needs from a smart home project. Feel free to get in touch whether you are ready to get started or just have some more questions about what we have to offer.
Home Theater Design and Installation Company Round Rock
Commercial Audio Visual Systems Round Rock
Residential Home Audio Video Install Round Rock
Round Rock Church Audio Visual Services
Smart Home Installer | Home Automation Systems Round Rock Texas
Capitol Audio Video is an a/v company which can design smart home systems that may include access controls, lighting control, surveillance systems, and more for the people of the Round Rock, Texas area.