For church leaders in the Round Rock area, keeping the audio visual system within the church up-to-date and functioning properly can be a major challenge. Most of those who are in church leadership positions don't necessarily have the knowledge or skills to improve the
system on their own, and might not know where to turn for help. Here at Capitol Audio Video, we would love to come to the assistance of your church and help you upgrade the a/v system so it can do its job each and every week.
A quality a/v system is required within a church to make sure everyone can clearly hear and enjoy the worship service. As a church a/v company, we understand what it takes to bring a church audio visual system up to the necessary level. Even a modest system consisting of an a/v mixer, some speakers and a projector will go a long way in improving the quality of the service for the membership as a whole. Our experience working with churches around the Round Rock area will help us to design and install a system that meets your needs.
Outside of the sanctuary itself, there is more that we can do to upgrade the overall audio visual system of the church and make the building more functional. One good example is the installation of an intercom system. With a functioning intercom that reaches all of the different areas of the building, members and leaders can communicate with just the push of a button.
On the exterior of the church, digital signage installation can be a great way to attract attention for your congregation and spread your message with the community at-large. Updating your digital sign with worship times, special events, community outreach programs, and more is a wonderful opportunity to inform others of the mission and purpose of the church. We can help you decide where to locate a digital sign, and instruct leaders and employees as to how the sign can be updated on a regular basis.
Because we are a church audio video company, we understand that there isn't always a ton of room in the budget for an expensive a/v system upgrade or installation. We are happy to work together with your leadership team to develop a plan that fits the needs of the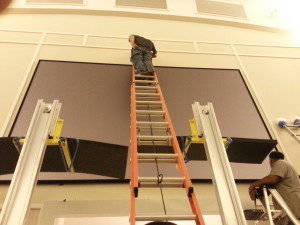 congregation while remaining within a budget that you are comfortable with. Simply get in touch with our friendly team to start the process of developing a new plan for the audio video needs of the church.
Thank you for thinking of Capitol Audio Video for your upcoming Round Rock, Texas area church a/v project. We are experienced in this business and would love to put our knowledge to work for you and your congregation. Video projectors, a/v mixers, surround sound speakers, and much more can all be brought together into a cohesive design that gives your church building the equipment it needs to provide the quality worship service experience you wish to offer to your members. We hope we will hear from you soon!
Round Rock, TX Home Theater Installation and Design Company
Commercial Audio Visual Systems Round Rock, TX
Custom Home Media Rooms Round Rock
Round Rock Home Audio Video Install
Smart Homes and Home Automation in Round Rock, TX
Round Rock TX Church A/V Systems| Church Audio Visual Solutions
For an a/v design and installation in your Round Rock church, call Capitol Audio Video today. We offer great features such as a/v mixers, surround sound speakers, intercom systems, digital signage, and more!